Description
Gespeaker is a free GTK+ frontend for espeak. It allows you to play a text in many languages with settings for voice, pitch, volume and speed. The text read can also be recorded to WAV file for future listening.
The text can be read with many available languages.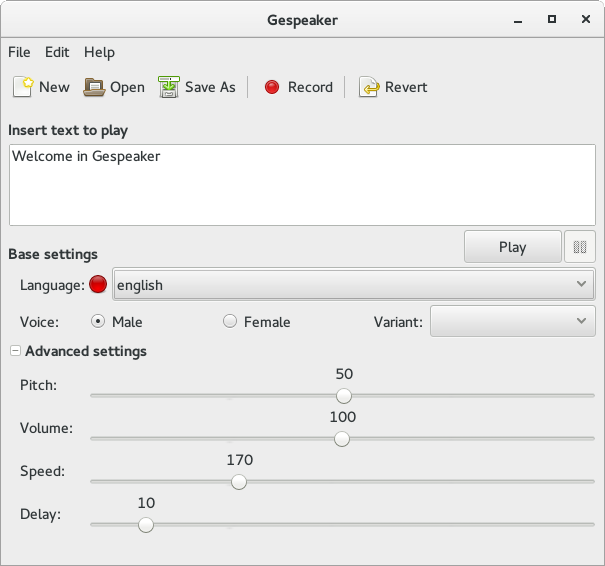 To hear some samples of recorded voices please see the demo voices page.
Enable enhanced voice support
Since version 0.6 it supports the speech synthesizer MBROLA for a better speech experience.
See the MBROLA page for instructions on enable the enhanced MBROLA voice support.
Installation
The stable versions released with source code and prebuilt packages are linked in the Download page. For information about installation from packages or source code please refer to the Installation page.
The Gespeaker development version source code is available on GitHub.
Translations
Gespeaker is actually translated in the following languages:
English
French
Italian
Spanish
Catalan
Dutch
Polish
Bulgarian
Faroese
German
Arabic
Greek
Vietnamese
Turkish
Chinese
Translators are needed, please help in translating Gespeaker in others languages.
Please submit your translations to Transifex or file an issue in GitHub bugtracker or pull a request on GitHub.
License
Gespeaker is distributed as open source code available on GitHub under GNU GPL-3+ license (GNU General Public License version 3 or higher). The software is supplied as is and it doesn't offer any warranty. Anyone can fork the project, modify and distribute it under the same GNU GPL-3+ license.