Version 0.8.6 (Aug 2, 2015)
Version 0.8.5 (Oct 4, 2014)
Version 0.8.4 (Sep 6, 2014)
Version 0.8.3 (Aug 31, 2014)
Updated translations
New Arabic translation by M I
New Vietnamese translation by Anh Phan
New Turkish translation by Necdet Yücel
Version 0.8.2 (Oct 17, 2010)
Removed the plugins amsn, emesene, kopete, pidgin, telepathy. They were moved to another source repository for separated maintenance and versioning
Added handlepaths to EspeakFrontend.py
If the specified MBROLA folder doesn't exist fallback to the default path
Switch to the new mbrola and espeak versions
New German translation by Heinrich Schwietering
New Faroese translation by Gunleif Joensen
Fixed handling of broken symlinks for amsn and emesene plugins
Version 0.8.1 (Jun 26, 2010)
New bulgarian translation by Svetoslav Stefanov
User configuration moved in XDG_CONFIG_HOME instead of previous hardcoded folder (sorry for your saved settings)
New plugins architecture
Moved dbus, save voice settings, save window size, welcome message in external plugins
New command-line features
Stop previous play on quit (moved on external plugin)
New plugins: debug, save window position
New plugins minimal configuration in preferences dialog
New Telepathy, Pidgin, Emesene, Kopete and aMSN plugins
Version 0.8 (Jun 13, 2010)
Moved translators from .po files to doc/translators
New Polish translation by Andrey J.
New DBUS interface to interact from external apps
Fixed minimum words gap from 5 to 0 in main UI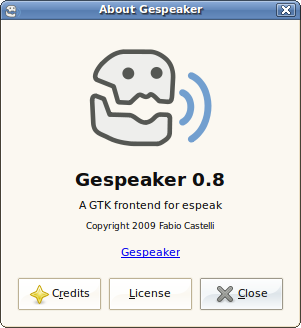 Version 0.7 (Dic 13, 2009)
New handlepaths module to reflect the changed directory structure.
New setup.py for distutils installation.
New packaging following the Debian policy.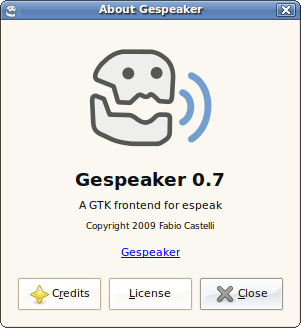 Version 0.6 (Jul 18, 2009)
Fixed audio testing localized string.
An error message is now shown if the audio player is not found instead of quietly ignore the error.
New spanish translation provided by David Prieto.
New MBROLA support with more realistic voices.
Added MBROLA voices to languages list.
Tabbed preferences dialog for new MBROLA support.
Moved language, voice type and variants to base settings and pitch, volume, speed and gap sliders to advanced settings upon suggestion of frandavid100.
Added automatic txt extension on saving text file.
Added automatic wav extension on saving WAVE file. This was causing weird noises on playing the recorded track if it wasn't a .wav filename.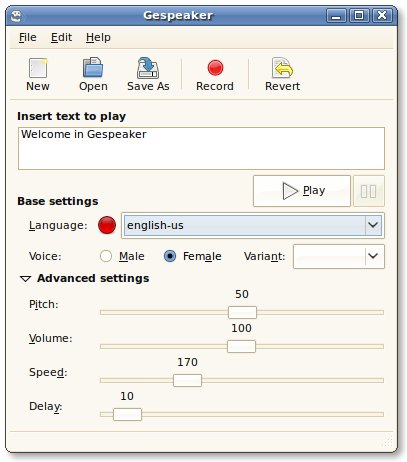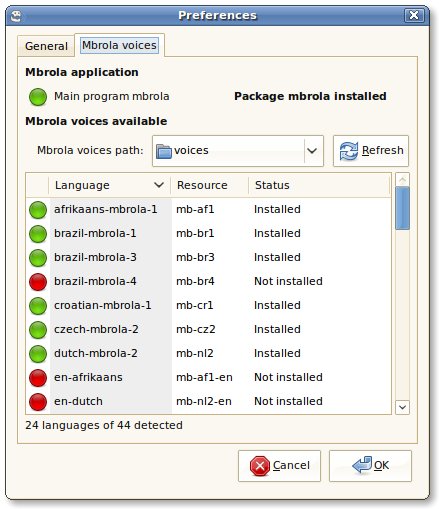 Version 0.5 (Jun 30, 2009)
Added an extender separator for settings to allow maximum usage of the window with the text.
Added filters for load/save text dialogs.
Added support for recording the audio track to wave.
Added a statusbar showing the active record mode.
Added preferences dialog.
Added preferences save and reload for welcome message, window size, voice settings and expander status.
Added support for audio frontend: ALSA (aplay), PulseAudio (paplay) and user customized player command, with audio command test.
Added voice variants by scanning /usr/share/espeak-data/voices/!v folder for extra voice variants.
Fixed stock icon for DialogFileOpenSave.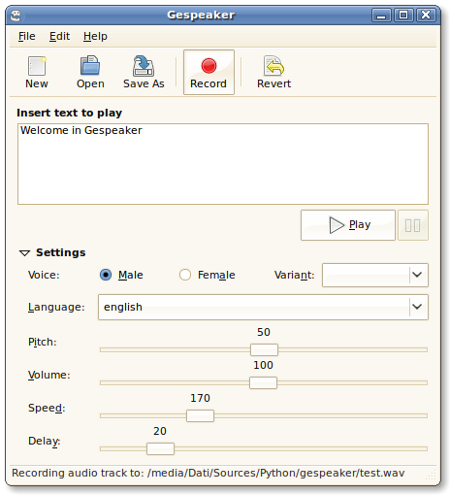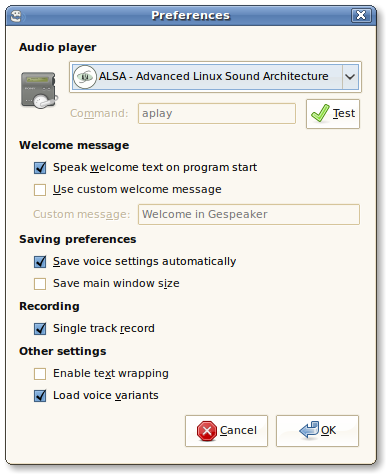 Version 0.4 (Jun 20, 2009)
Added SubprocessWrapper.Popen to wrap subprocess.Popen in order to support python versions prior to 2.6 which don't have the delete argument on object creation.
Added TempfileWrapper.NamedTemporaryFile to wrap tempfile's Popen object in order to support python versions prior to 2.6 which don't have terminate and send_signal methods. Actually no more used, left for future usage.
Now Gespeaker works with python version 2.4 and higher.
Temporary file for output to speech is created at program start so new temporary files are no longer created after each play.
Included pause and resume features.
New icon and logo, kindly provided by MIX.
New french translation provided by Emmanuel.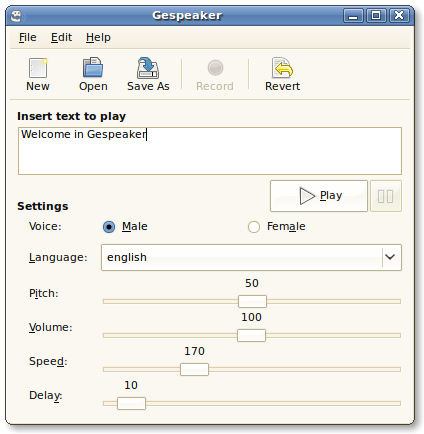 Version 0.3 (Jun 18, 2009)
Used only for testing, never released.
Added support for voice type (male/female) via +12 for female voice.
Removed escaped text substitution with a more secure temporary file with the text to play.
Substituted direct shell piping with more secure subprocess' piping.
Better control of external calls, now both espeak and player execution are polled for exitcode and terminated if requested.
Added documentation and artists parameters to DialogAbout.
Version 0.2 (Jun 14, 2009)
Changed UI layout according to GNOME 2.32 HIG specifications
Fixed DialogAbout.set_icon_from_file icon usage, which was wrongly hardcoded.
Symlinked copyright file to /usr/share/doc/gespeaker/copyright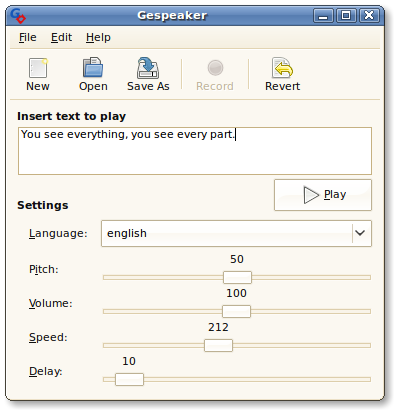 Version 0.1 (Jun 13, 2009)