Description
gWakeOnLAN is a free GTK+ application to turn the machines on through the Wake On LAN system, regardless of their installed operating system.

From the main window you just need to click the add button to insert a new machine in the machines database to turn on then when needed.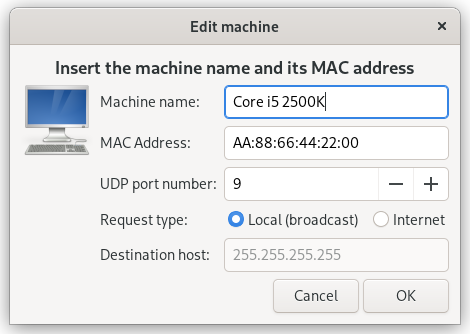 After that you can mark with a check the hosts you wish to turn on and then click the Turn on button to ask the machine to awake from the network.
Installation
The stable versions released with source code and prebuilt packages are linked in the Download page. For information about installation from packages or source code please refer to the Installation page.
The gWakeOnLAN development version source code is available on GitHub.
Translations
gWakeOnLAN is actually translated in the following languages:
English
French
Italian
Hebrew
Spanish
German
Russian
Basque
Dutch
Polish
Portuguese
Slovak
Slovenian
Turkish
Bulgarian
Chinese
Catalan
Korean
Lituanian
Translators are needed, please help in translating gWakeOnLAN in others languages.
Please submit your translations to Transifex or file an issue in GitHub bugtracker or pull a request on GitHub.
License
gWakeOnLAN is distributed as open source code available on GitHub under GNU GPL-3+ license (GNU General Public License version 3 or higher). The software is supplied as is and it doesn't offer any warranty. Anyone can fork the project, modify and distribute it under the same GNU GPL-3+ license.